We are celebrating 9 years of partnering with Randy and his amazing team over at Horseman's Track and Equipment!

NOW AVAILABLE
Equine Medical Transport
From Horsemen's Track and Equipment
Carolina Trailer Sales, Horsemen's Track and Equipment, and SCTrailers have joined forces to create the most advanced equine ambulance in the world. The Equine Medical Transport unit offers several unique features that set it apart from other equine ambulances on the market!
FEATURES OF THE EQUINE MEDICAL TRANSPORT:
• Hydraulics to lower the rear for loading or unloading from the back of the ambulance
• Hydraulics to lower the entire ambulance for unloading from either side
• Electronically adjustable divider
• Heavy duty padding throughout the stall area
• 8' inside head clearance in the stall area
• Interior control panel facing the stall for viewing
• Key fob technology controlling all adjustable aspects of the transport vehicle
• 100-gallon water tank with front loading for ice with 12 volt on-demand pump and spigot
• Light switches on both sides of trailer
• Dual axles
• Structural steel super structure with aluminum walls, roof and sheeting
• Electric brakes
• Double side personnel doors and double side ramps
• CCF granular rubber comfort and safety flooring, including Microban anti-microbial
• 48" x 120" drag mat
• Warn 5,000 lb winch
• Two 7' x 20' privacy screens that hook to rear doors
• One can connect fifth wheel coupler to goose neck 2-5/16 ball couple adapter, giving two options to connect a truck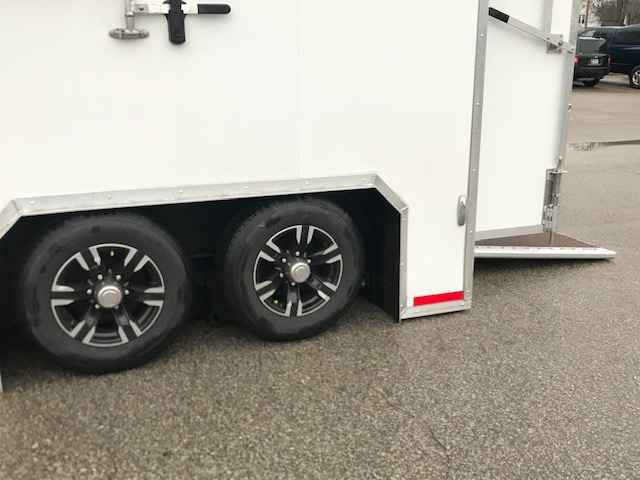 OPTIONS:
Stall Camera, Inverter for X-Ray Machine, Loading Lights for Rear and Side Doors
To make the Equine Medical Transport more accessible to racetracks, equine hospitals and other equestrian venues, Horsemen's Track has developed a unique rent or lease option, allowing customers to lease the vehicle with an end of term buyout, or rent shorter for weeks or months at a time.
Equine Ambulance Lowering To Ground DEMO
Equine Ambulance Motorized Divider DEMO